Electric machine control, automation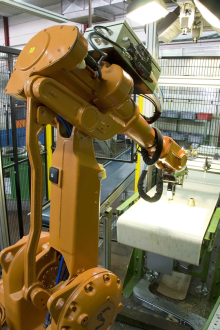 • Projection and design
• Production of el. switch case
• Programable systems

We are designing and producing electrical equipment of industrial machines according to customer requirements, from simple machines for complicated industrial production lines. The final solution contains project and design documentation, installation and startup procedure. In complicated solutions we use programmable device we possibility to reload new software and change functionality and features.
Electrical switch cases we build from standardized cases known suppliers. There are equipped by components of serious and producers (Schrack, Schneider, Moeller and others). We deliver projects up to 1000V, from small size to big cases.
For complicated solutions we use PLC (Programmable Logic Controller) devices of OMRON, Schneider, SIEMENS. Our solutions can be equipped by graphical or textual panels for better operator's control easy use.
For machine drive control we use frequency converter with power up to 50kW. For exact positioning we use OMRON servo-systems.
For more information or business proposal, please contact us using maxpro@maxpro.cz or tel.: +420 571 415 387, +420 603 533 227.
MAXPRO s.r.o.

Address :
Jiráskova 379
755 01 Vsetín
Contact information:
tel/fax: +420 571 415 387
tel: +420 571 416 325
e-mail: maxpro@maxpro.cz